The management system is not a recent concept. It was utilised in inspecting military goods during World War II by an American physicist, engineer and statistician, Walter A. Shewhart. Large companies like Ford and Toyota have also been practising their management systems, and many other companies are emulating their quality management principles.
Although each management system has a different application method, they have one thing in common; they want to give their customer the best of their products and services.
Adopting this, the International Organization of Standardization (ISO) developed and published ISO 9001 requirements to help companies and organisations to craft a quality management system (QMS) to meet customer and regulatory requirements.
This article will discuss the ISO 9001 requirements and how they can benefit your company or organisation.
Introduction to ISO 9001
ISO 9001 is part of the ISO 9000 family of standards.
ISO 9001 standard is the only standard from the ISO 9000 series that can be certified against because it contains normative references for the quality management system. The requirements in this international standard are generic and can be applied by all types of organisations or companies. ISO 9001 has been used as a reference by many quality professionals. The latest edition of ISO 9001 was published in 2015.
ISO 9001:2015 standard encourages the understanding and management of processes as a system during the development, implementation, and improvement of quality systems to achieve customer satisfaction. ISO 9001:2015 also promotes risk-based thinking to achieve an effective QMS, including addressing and controlling potential risks in the existing processes.
ISO 9001:2015 Clauses
ISO 9001:2015 has ten clauses, with Clauses 1-3 explaining general information about ISO 9001:2015 standard and Clauses 4-10 defining the mandatory requirements for the quality management system. The company and organisation must have documented and implemented information or procedures related to these clauses' requirements before going for the ISO 9001 certification process.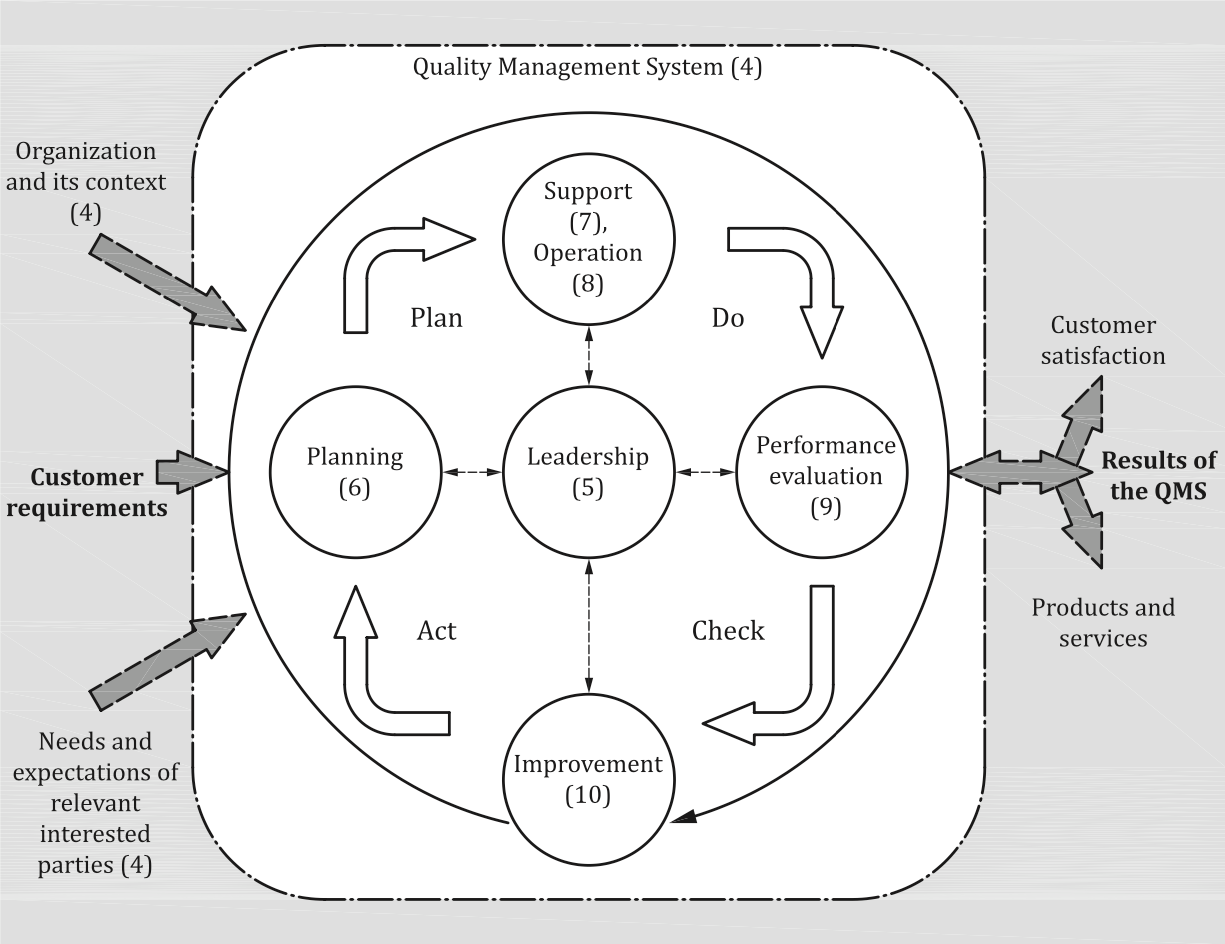 ISO 9001:2015 incorporates the Plan-Do-Check-Act (PDCA) Cycle and risk-based thinking in implementing the ISO 9001:2015 requirements (Clause 4-10) and quality management principles. The quality management principles include:
Customer focus
Leadership
Engagement of people
Process approach
Improvement
Evidence-based decision making
Relationship management
Clause 4: Context of The Organisation
The company and organisation shall determine their strategic direction, purpose and objectives in parallel with understanding the needs and expectations of interested parties, both external and internal and how they are related to each other. Companies and organisations shall also take these factors to help them determine the scope of their quality management system.
The company and organisation shall make proper documentation of this process. Vision and mission, quality policies and objectives are examples of how companies and organisations could express their strategic direction, purposes and quality objectives.
The management system shall document all applicable scopes based on the business process. If there are some exceptions, then the proper justification for the exclusion shall be given in the record. This documented information can be maintained in the form of a quality manual.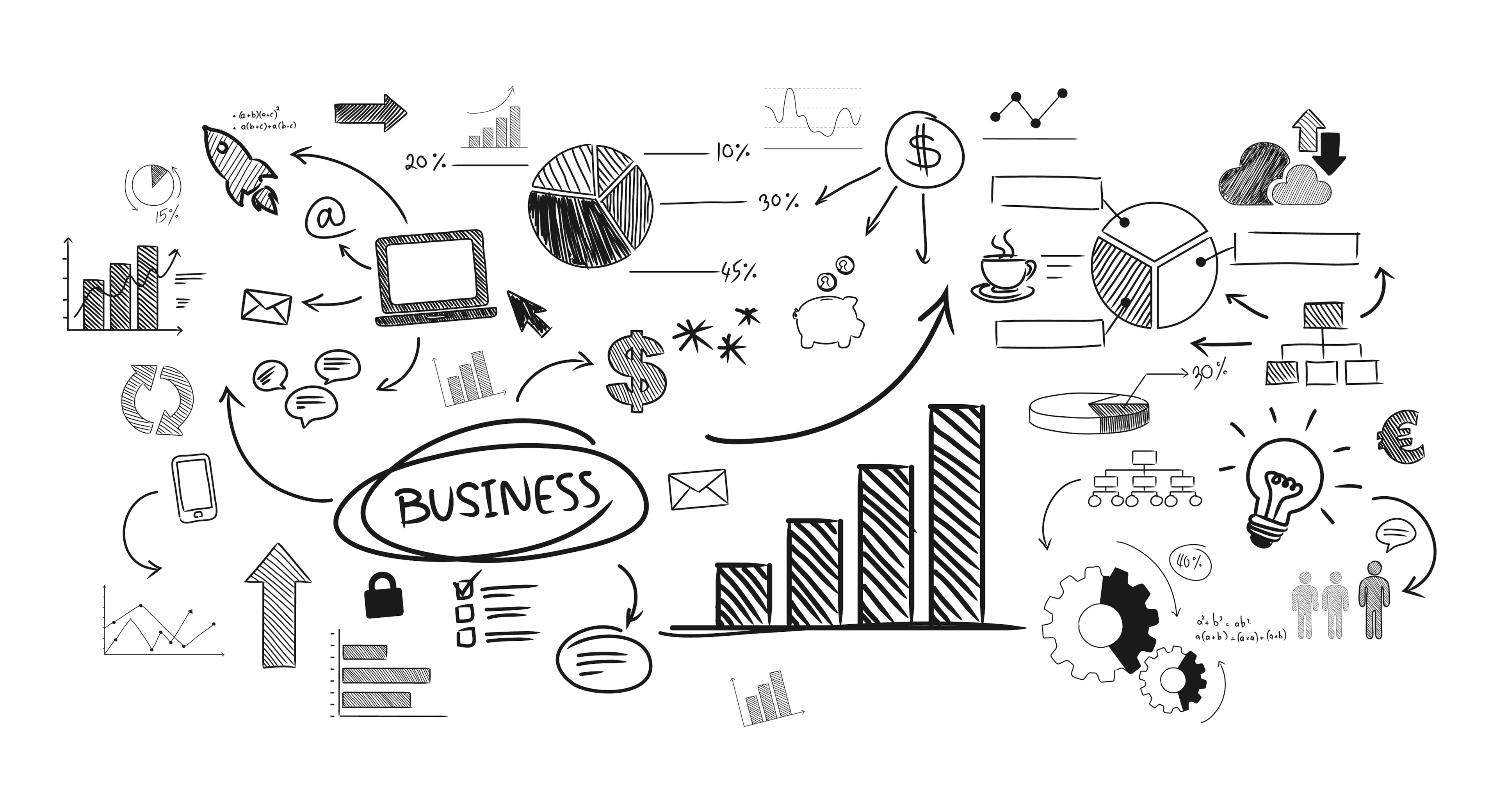 In addition, there are also some examples where companies can fulfil Clause 4:
Conducting a SWOT analysis to identify the company's strengths, weaknesses, opportunities, and threats.
Developing a stakeholder map to identify the company's key stakeholders and their requirements.
Conducting a PEST analysis to determine the external factors that may affect the company's performance.
Clause 5. Leadership
ISO 9001 wants to ensure that all company members, including the top management, will support the management system. In this clause, the top management must demonstrate leadership and commitment to the quality management system, products and services, business, and customers.
This includes ensuring that the context of the organisation is well defined and well communicated within the company, ensuring that sufficient resources are available for business operation and management system, ensuring the promotion of customer experience and customer satisfaction, continual improvement, etc.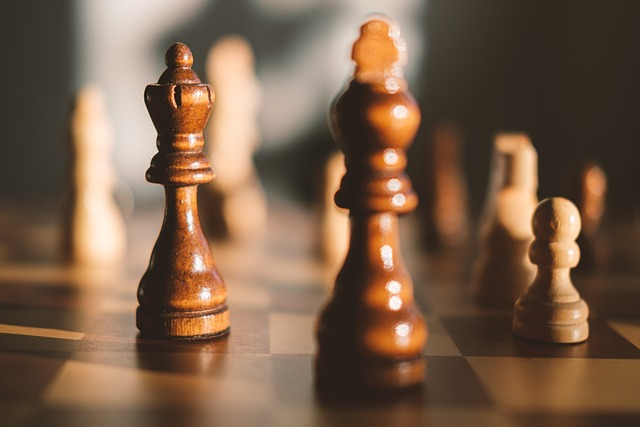 Some practical examples include:
Developing a leadership strategy that defines the company's vision, mission, and values (addressed in Clause 4 requirement.)
Assigning all departments and employees clear roles and responsibilities and providing them with the necessary resources to fulfil their roles.
Conducting regular performance reviews of all employees to ensure they meet their objectives.
Clause 6. Planning
When planning the management system, the company must consider all the issues and requirements relevant to the context of the organisation. Additionally, risks and opportunities must be identified and addressed following the implementation of the quality management system.
Furthermore, quality and business objectives and the plans to achieve them must also be identified. If there are some changes, companies must carry out the changes in a planned manner, including assessing the potential consequences.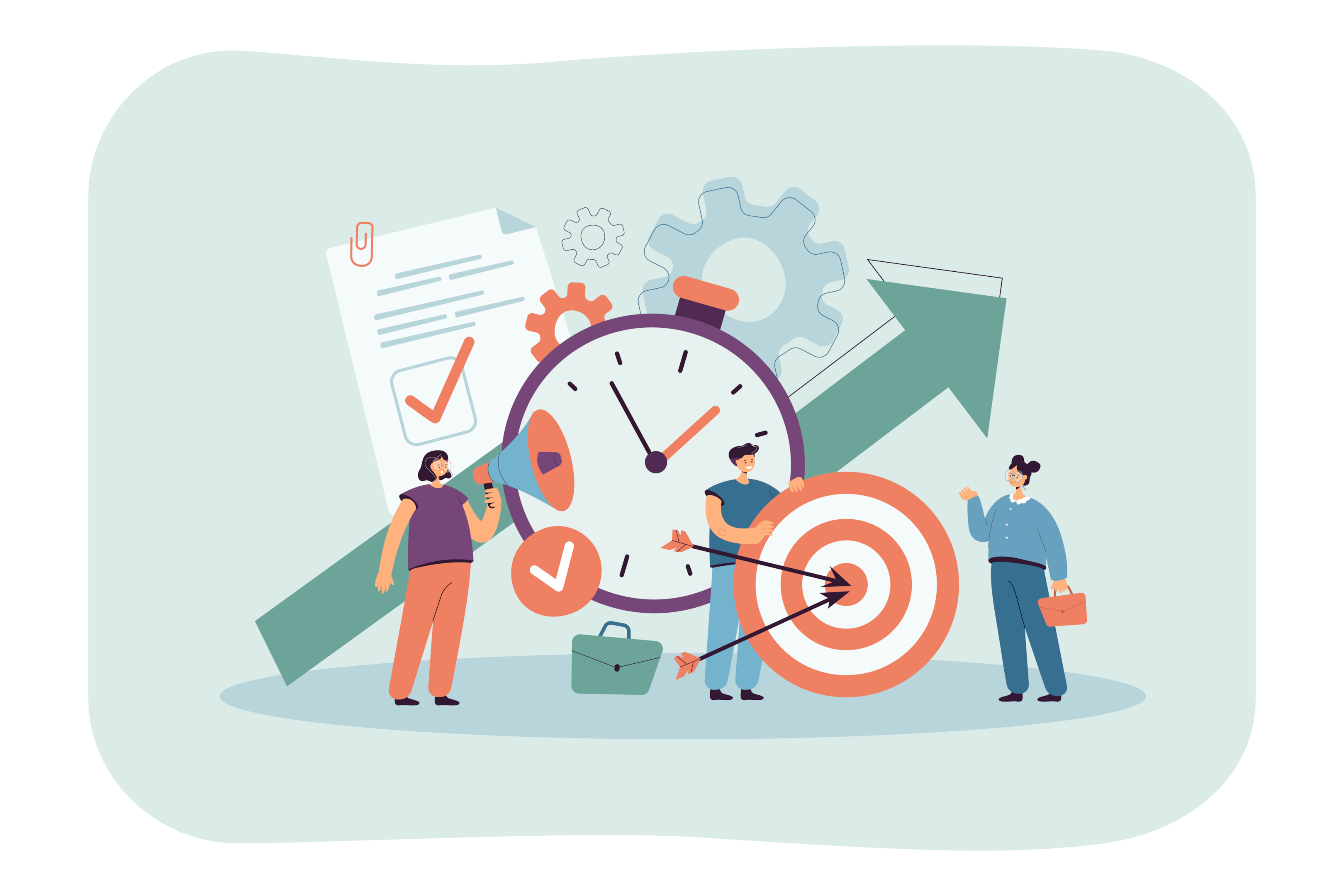 Some practical examples include:
Developing a strategic plan that aligns with the company's vision and mission (in line with Clause 4 and 5 requirements as well.)
Developing an annual business plan that identifies the company's goals and objectives.
Developing a risk management plan that identifies and mitigates potential risks that could impact the company's performance.
Clause 7. Support
The company shall determine and provide the resources needed for the quality management system and business operation, considering the capabilities of the internal resources and resources necessary from external party providers.
Support for a quality management system and business operation comes from the employee and the infrastructure and work environment. To ensure effective and adequate support is available, the company needs to monitor, maintain, service, and improve the performance of the support.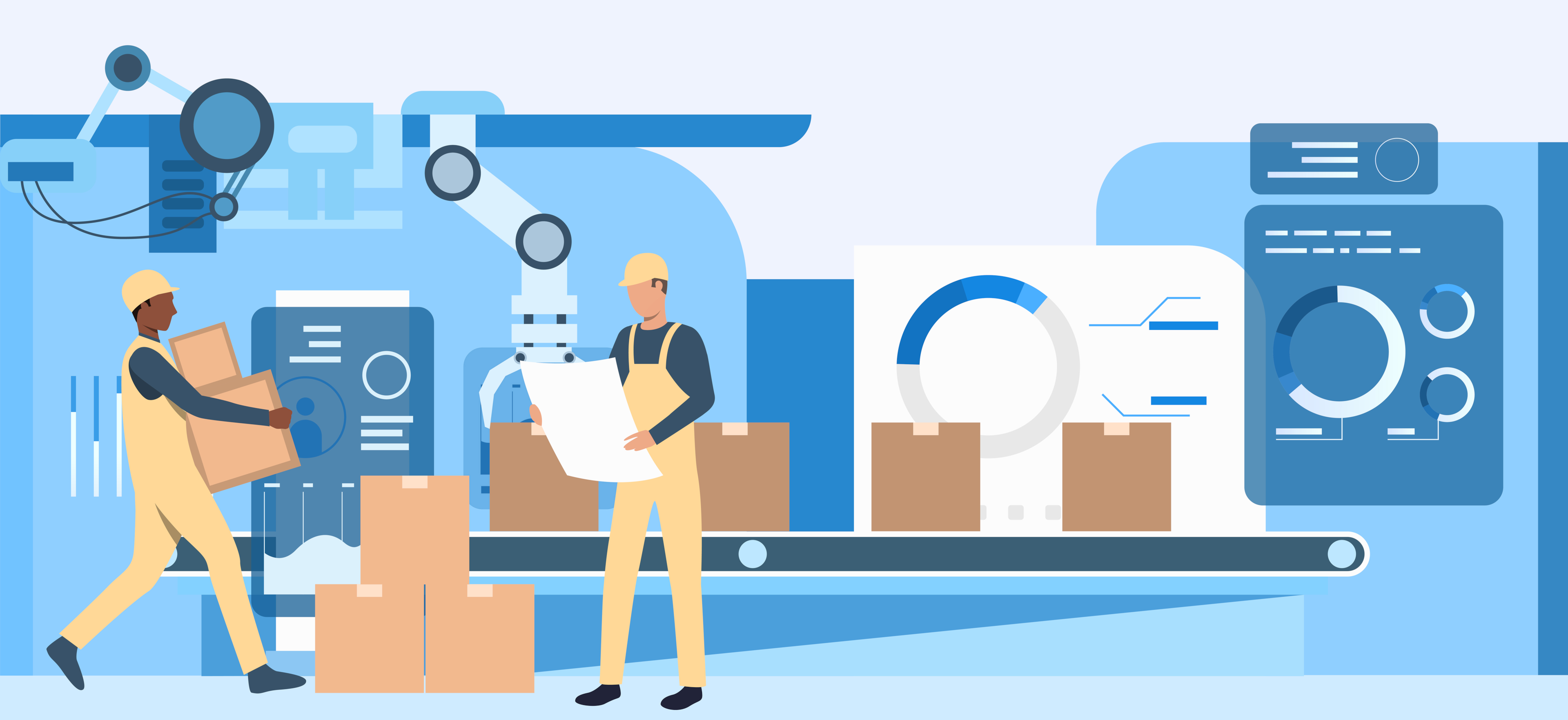 Supports may be vastly different for different companies and industries, but some examples include the following:
Developing and implementing a training and development program ensures employees have the necessary skills and knowledge to perform their roles.
Implementing a system for documenting and controlling company information.
Developing and implementing a system for managing the company's resources, including human resources, infrastructure, and equipment.
Clause 8. Operation
In this clause, ISO 9001 explains the requirements to produce satisfactory products and services by implementing a quality system through the development, production and post-production activities.
Proper procedures and controls must be implemented to ensure effective processes. These procedures and controls are to maintain the internal processes and services provided by external service providers to ensure the consistency of the products and services.
Operational planning, management of processes, management of changes, production and service provision, the release of products and services, and control of nonconforming outputs are some critical areas included in this clause of ISO 9001 requirements.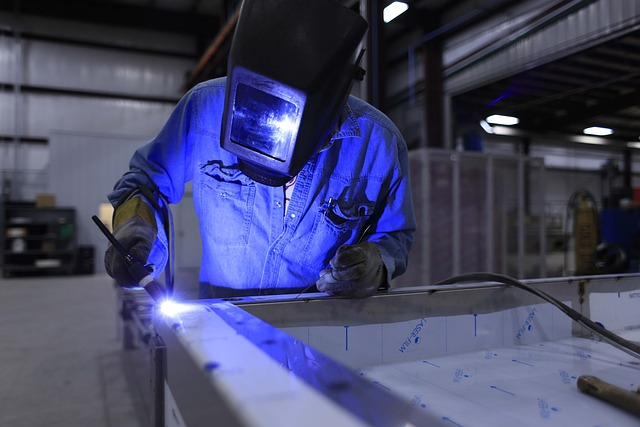 Some examples to meet this requirement includes:
Developing and implementing a quality management system that outlines the company's processes, procedures, and work instructions.
Developing and implementing a system for managing product and service quality, including design and development, production, and service delivery processes.
Monitoring and measuring the quality management system's effectiveness, including internal audits, reviews, and customer feedback.
Clause 9. Performance Evaluation
Monitoring and evaluating the quality system is as important as implementing it across the entire organisation and company. To ensure proper monitoring and evaluation process, a well-defined definition of what needs to be measured and monitored, methods, and monitoring intervals must be established. Annual reviews, such as internal audits and management reviews, are essential performance evaluation aspects.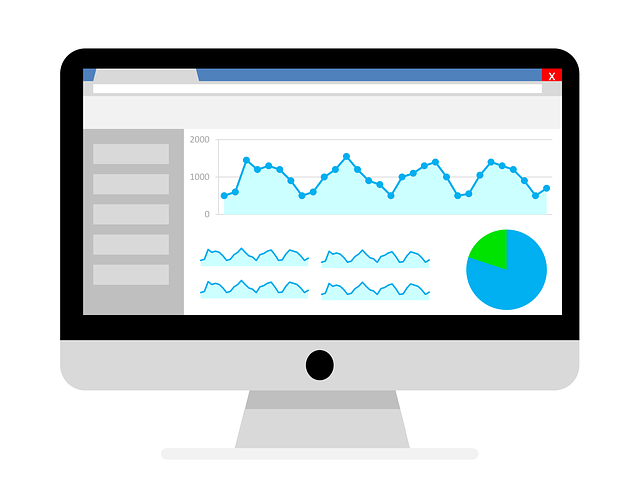 Examples to meet this clause's requirement include:
Developing and implementing a system for monitoring and measuring the company's performance, including customer satisfaction, product and service quality, and process efficiency.
Conducting regular internal audits to ensure compliance with the quality management system.
Conducting regular management reviews to assess the quality management system's effectiveness and identify improvement opportunities.
Clause 10. Improvement
ISO 9001 encourages companies to improve continually. The continual improvement includes improving products and services to fulfil customer requirements and improving performance for an effective quality management system. In addition, non-conformity management and implementation of preventive and corrective actions are also needed as part of continual improvement.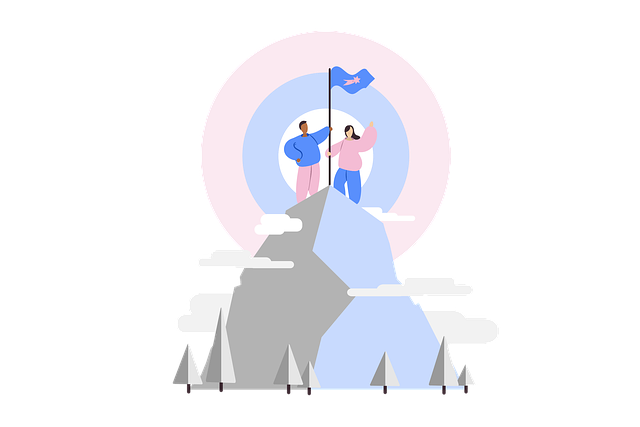 Analysing and evaluating the outputs of management review and internal audit is vital for the organisation's continual improvement.
This clause is crucial in ensuring the continual maintenance of your company's compliance with ISO 9001. Some examples include:
Developing and implementing a system for identifying and resolving non-conformities and implementing corrective actions.
Developing and implementing a continuous improvement program that seeks to improve the effectiveness and efficiency of the quality management system.
Using data analysis and other tools to identify trends and opportunities for improvement.
ISO 9001:2015 Benefits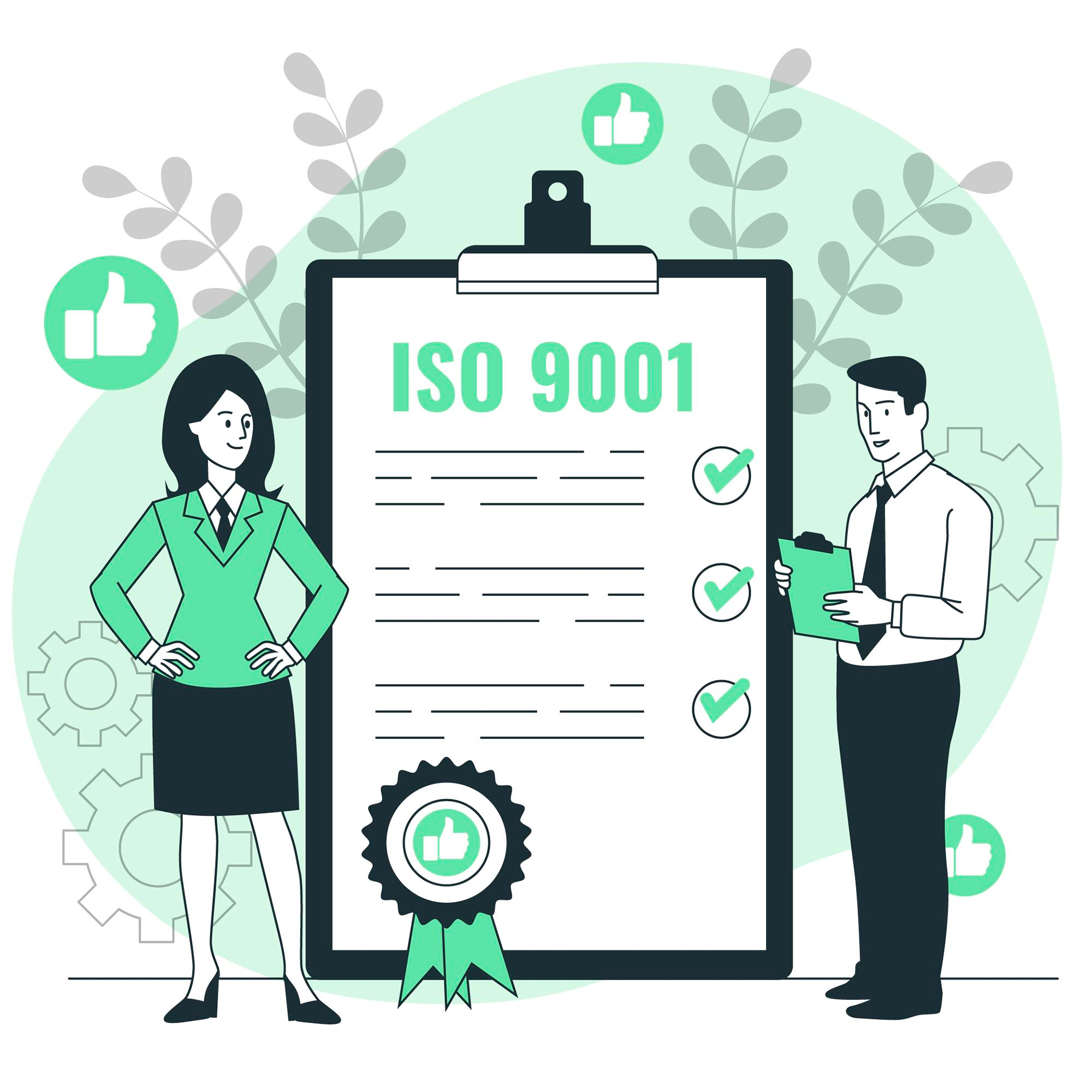 The purpose and benefit of ISO 9001 are not only to enhance customer satisfaction. Implementing ISO 9001 requirements can also produce favourable outcomes, such as increased efficiency and productivity through the organisation's processes, improved customer relationships, optimising resources, measurable results, and an effective QMS.
Furthermore, once the ISO 9001 mandatory requirements have been met, companies can go for certification to officially become ISO 9001 certified.
Conclusion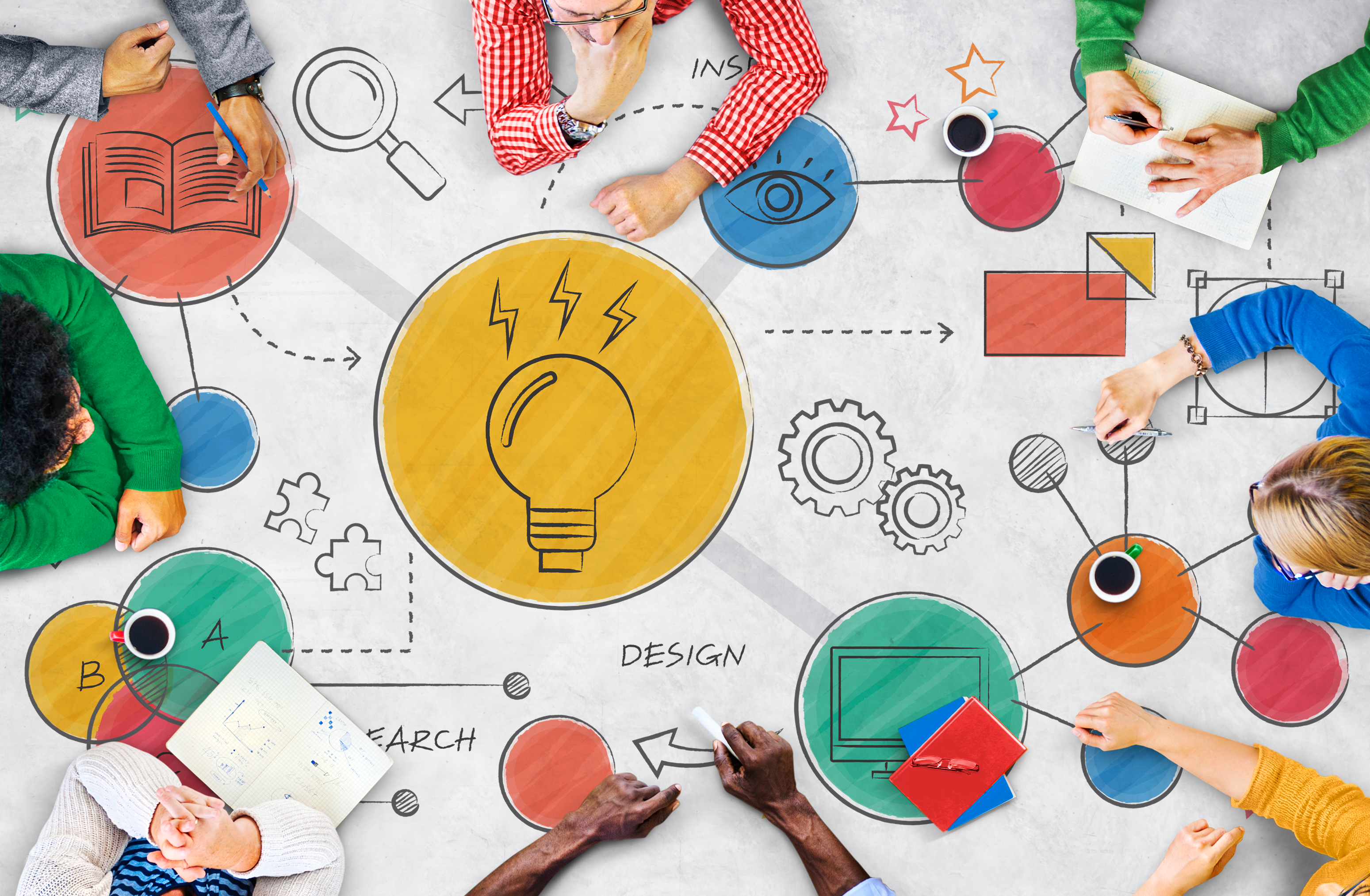 The quality system has been practised and considered an important business and operation aspect since the 19th century.
Companies like Ford and Toyota even created a management system many other companies have adopted. Following this concept, ISO publishes ISO 9001, an international standard for quality management system, as a reference for companies to meet statutory and regulatory requirements and achieve customer satisfaction.
ISO 9001 contains requirements for an effective QMS, such as assessing customer satisfaction and interested parties to produce high-quality products and services.
To achieve this, companies and organisations need several key areas to implement, such as addressing risks in their daily operations, establishing proper procedures and controls throughout the operation stages, performing evaluations, and improving continuously.
Implementing ISO 9001 standard can give us beneficial outcomes, such as increasing productivity and performance, reducing customer complaints, and increasing the quality of products and services.